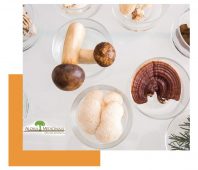 By the time Aloha Medicinals arrived at the base of the Sierra Nevada Mountains in 2007, they had already been cornering the medicinal mushroom market for close to a decade. Originally founded in Maui, Hawaii, in 1999 by a group of scientists and health care experts interested in growing Reishi, Cordyceps, and other medicinally important mushroom species, Aloha Medicinals sole focus lied in producing a high-quality product. They were rewarded with high demand, and within three years Aloha moved into a new facility in Santa Cruz, California.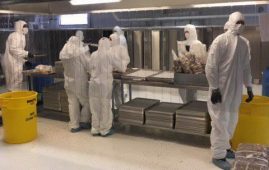 This would turn out to be quite a fortuitous pit-stop for the young company, as the new Santa Cruz facility was once the research laboratory of mushroom pioneer Dr. Benjamin Stoller. When Aloha Medicinals moved in, not only did they gain a fully qualified staff and manufacturing equipment, but they also acquired Dr. Stoller's original research notes. This extensive research material provided a roadmap to breakthrough patents, and a few years later Aloha Medicinals found themselves seated atop the medicinal mushroom industry. With newly increased demand, and Dr. Stoller's notes in hand, Aloha once again picked up and relocated – this time to Carson City.
Sitting at an elevation of 5,000 ft., the air pressure and climate of Carson City proved to be ideal for cultivating the world's most potent medicinal mushroom species. In fact, Aloha Medicinals have the world's largest privately owned collection of medicinal mushroom species, with more than 1,000 unique specimens in their culture bank. This huge amount of product allows Aloha to supply ingredients to over 700 different companies in more than 60 countries, leading to their recognition as the "2008 Exporter of the Year" by the U.S. Department of Commerce.
Not only did Carson City present a perfect climate for the production of medicinal mushrooms, it also enabled Aloha Medicinals to hire the quality employees they needed. While they had retained a highly-trained staff of Mycologists, Microbiologists and Health Care Professionals, "the workforce was a large issue in California and we found the quality of employees to be excellent in the Reno/Carson City market," said Aloha Medicinals' eCommerce Manager Derek Rush. The move to Nevada has been great for the company in general, as continued growth has led to increased recognition in the health foods industry. "We continue to see the use of our mushroom powders in functional food and meal replacement shake category," said Rush of the most exciting development in Aloha's business.
Aloha Medicinals has been taking over the world, and they have no plans to slow down anytime soon. Within five years, they plan to "expand our business and bring more of our botanical product production to the Nevada location," said Rush. With a proven product, a world-class team, and a Silver State to call "home", Derek Rush says success really comes down to just one thing: "Have passion for your business and the results will follow."
Get free shipping on orders over $25* on https://alohamedicinals.com/. And for a limited time, they'll throw in a bottle of Performax Forte with ANY purchase!