50 years ago this month, Neil Armstrong and Buzz Aldrin became the first men to walk on the Moon. Their 2 hour and 36 minute moonwalk was made possible due to thousands of hours of preparation and training by multiple teams of people – and upheld President Kennedy's 1961 pledge to land a man on the Moon before the decade was out.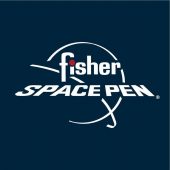 One of the men who contributed to this incredible achievement was Paul Fisher, founder of Fisher Pen Company. When he started the company in 1948, he didn't know he would be part of one of the most memorable moments of the 20th century or that he would transform ink pen manufacturing forever. But after the Apollo 1 tragedy, Fisher realized that future astronauts would need a safe and functional writing instrument in the harsh environment of space. He began experimenting right away, and soon the Fisher Space Pen was born.
Used on all manned space flights (US and Russian) since Apollo 7, Fisher Space Pen has become legendary for its reliability, durability, and functionality. It was the first product sold from space (on QVC), featured on the Discovery Channel's 'How It's Made' series, and even made an appearance on a famous episode of 'Seinfeld'. And despite its fame around the world (and beyond), the Fisher Space Pen is most lauded in its hometown of Boulder City, NV.
Nevada has always been a business-friendly state, and when Fisher Space Pen moved from Van Nuys, CA, to Boulder City in 1976, it only took four years for Paul Fisher to be recognized as Nevada's "Small Business Person of the Year". Their Silver State ties run deep, and Matt Fisher, VP of Sales and Paul Fisher's grandson, is most proud of this fact: "To continue my grandfather's legacy in my home state [of Nevada] is truly an honor."
With approximately 65 employees, the feeling of a small business keeps Fisher Space Pen reaching for the stars – or more realistically – for Mars. "We're still a few more years from reaching [Mars] so I'd like to see our Astronauts, once again, take us to the Moon," said Fisher. Fisher Space Pen will be representing Nevada at the White House Made in America Showcase on July 15th.
Fisher Space Pen has been a long-time member and supporter of Made in Nevada, and credits the statewide marketing-cooperative with introducing new dealers to the Fisher brand. Taking advantage of every opportunity is how Fisher Space Pen has grown into the massive brand it is today. When asked what advice Matt Fisher has for upcoming Nevada entrepreneurs, he says simply "work hard, continue educating yourself, and never take any opportunity for granted."
Visit www.spacepen.com to get your hands on their Apollo 11 50th Anniversary Pen. Not only is each pen is designed to handle the rigors of space flight, but each contains a REAL piece of the Apollo 11 spacecraft!