Anyone who has ever owned a pet understands the frustration of trying to find a healthy dog treat that your fur-baby will love. Throw allergy considerations and dietary restrictions on top of that, and it can seem next to impossible to give your pup a treat that checks all your boxes. That was the dilemma Joel White found himself in with his dog, Melba, who continued to have severe allergic reactions to ingredients common to most dog foods and treats. Joel decided to take matters into his own hands and (after consulting with a vet) began to develop his own dog treats, gaining rave reviews from his friends who encouraged him to begin producing treats for them – and Melba and Hazel was born.
The path of an entrepreneur is never clear or certain, but taken one step at a time a small idea can grow into massive success. After Melba & Hazel developed their four mainstay products (100% Boneless, Skinless Chicken Breast; 100% Tri-Tip Pork Sirloin; 100% Lean Ground Turkey; 100% Skinless, Freshwater Tilapia) they began testing their products at local farmers' markets and community events. "Once we're able to have a dog taste our treats, we are confident in building a solid customer base," says Joel.
But sustained growth still seemed to elude the burgeoning company. Based in Incline Village, NV, Melba & Hazel had difficulty drawing foot traffic to a physical location and had to work hard to establish a brand and marketing techniques that would draw in business. With a little elbow-grease, Melba & Hazel has developed "a uniformly positively reputation for having a quality product" and have expanded their online-customer base into 25 states.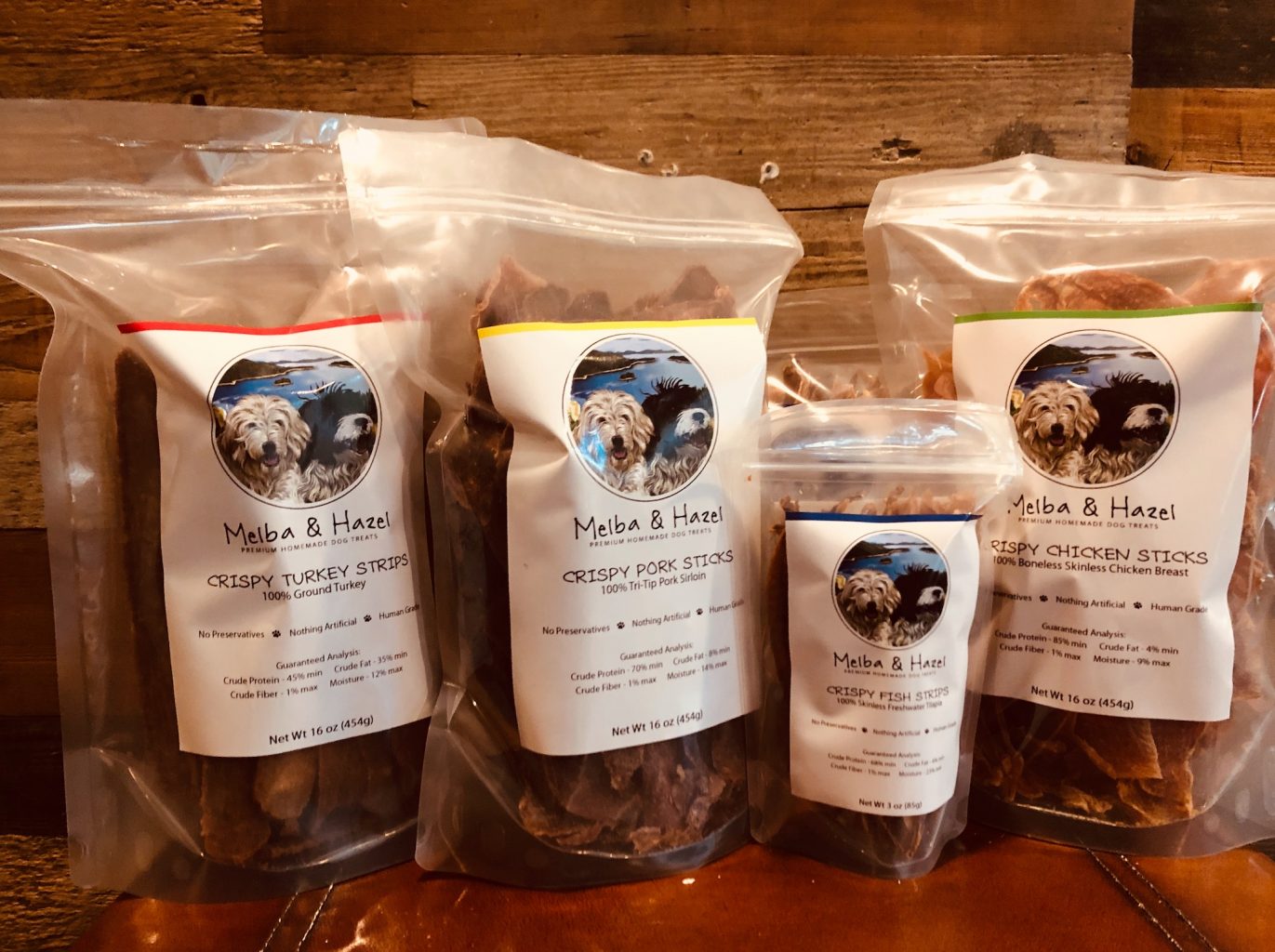 "Envision what you want your business to be, then outline the steps necessary to opening that business," says Joel, "it will be a learning process, and each step that you can anticipate will make things easier and allow you to avoid surprises and/or missteps along the way. It's a big leap from doing something as a hobby to having a sustainable and rewarding business."
While building a marketing strategy and creating a customer-base are key to small business success, it takes connections and community to really establish a brand. That's where Made in Nevada came in to connect, promote, and support Melba & Hazel in-state and beyond. "We joined Made in Nevada because we wish to build upon the sense of community that has allowed us to share ideas and develop relationships," says Joel. Legislative Day, Showcase Nevada, and BizBash networking events are all designed for Made in Nevada members to connect with customers, potential business partners, and state lawmakers – growing the Nevada business community into a web of passionate and supportive entrepreneurs!
Growing a network means increased visibility, and Melba & Hazel are taking full advantage of every opportunity. This year, you can find them at Wyld Market events in the Reno area, the Carson Farmer's Market, Truckee Thursdays Street Festival, Ski Run Farmers' Market and the Austin Pet Expo! And this is only the start for the pet food company. "Our goal is to have a viable and sustainable business extending throughout the United States, online and through more physical locations," says Joel, "We draw immense satisfaction in being recognized as having quality products that all dogs love."
To find out where you can get your hands on quality food that your doggy will love, visit melbaandhazel.com.